Dr. Enrique Jacome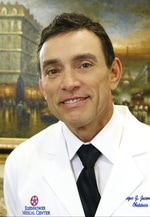 Board certified by the American College of Obstetrics and Gynecology, Dr. Enrique G. Jacome completed his residency at Harbor-UCLA Medical Center. Dr. Jacome has been a practicing gynecologist with Eisenhower Medical Center since 1995 and is a leading expert in Robotic Surgery, having performed close to 1,000 robotic procedures and more than 3,000 laparoscopic cases. His work has been published in the Journal of Robotic Surgery, Journal of Minimally Invasive Gynecology, and the Journal of Reproductive Medicine. He has presented at many major national and international conferences, including the World Congress of Gynecologic Endoscopy, as well as the Annual Meeting of the American Association of Gynecologic Laparoscopists.
In 2008, Dr. Jacome was the first physician in Riverside County, California, to perform robotic surgery using the da Vinci® S HD Surgical System. In 2010, the Auxiliary at Eisenhower Medical Center honored Dr. Jacome with the "Distinguished Service Award for Outstanding Patient Care." He received the 2011 Physician of the Year Award at Eisenhower Medical Center and in 2012 Physician of the Year for the Hispanic Community.
In 2012, the International Association of Obstetricians and Gynecologists recognized Dr. Jacome as a Leading Physician of the World and Top Obstetrician and Gynecologist in California. Other awards include 2012 Southern California Top Doctor Obstetrician and Gynecologist, 2011 and 2012 Palm Springs Life Top Doctor in Obstetrics and Gynecology, 2013 Los Angeles and San Diego Top Doctor in Obstetrics and Gynecology. From 2011 to 2017, Dr. Jacome was selected by his peers as a Top Doctor in Obstetrics and Gynecology.
As a pioneer and innovator with a unique background in minimally invasive surgery and hormone pellet insertion therapy, Dr. Jacome is committed to improving the insertion technique and the pharmacokinetics related to the pellet manufacturing process. Dr. Jacome is the founder of Pellecome LLC and inventor of the Re3™ Advanced Pellet Delivery System for Men & Women.